Contact Us

St John's Church, Ravenhead, St Helens
St John's Church
By Post:
St John's Church
c/o St John's Vicarage
Crossley Road
Ravenhead
ST HELENS
WA10 3ND
By Telephone:
0151 4932521 (Rev. Helen Coffey, Eccleston Team Rector)
Emmanuel, Thatto Heath
St John's Church is no longer the owner of the land that the Emmanuel building formerly occupied - now the site of 'Harry House' - at the corner of Close Street and Elephant Lane in Thatto Heath. We are unable to address any enquiries regarding the new residential development on the site.
--------------------------------------------------
St John's Community Centre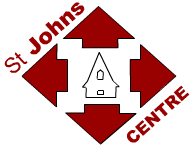 By Post:
Centre Office
St John's Centre
Crossley Road
Ravenhead
ST HELENS
WA10 3ND
By Telephone:
01744 758991