Events Coming Up
Keep an eye on this page for the latest events coming up at St John's, Ravenhead.
Advent & Christmas Services
Sunday 28 November 2021 - Sunday 2 January 2022

Church is a great place to spend Christmas with the family. With carols on the organ, the crib awaiting the Christ Child and the Advent Candle counting through the Sundays before the big day, don't miss the chance to remember why we celebrate Christmas.
Sunday 28th November 2021 - Advent Sunday
Sunday 5th December 2021 - Advent 2
Sunday 12th December 2021 - Advent 3
Sunday 19th December 2021 - Advent 4
Friday 24th December 2021 - Christmas Eve
Saturday 25th December 2021 - Christmas Day
Sunday 26th December 2021 - First Sunday of Christmas
Sunday 2nd January 2022 - Second Sunday of Christmas
Bear with us - full details of our Christmas events will be online on our dedicated Christmas page in the coming days!
Mother's Day/Mothering Sunday Service
Sunday 27 March 2022, Time TBC
A service to give thanks for mums and family life. Bring your mum, or come and remember her in this special service.
Easter Sunday Service
Sunday 17 April 2022, Time TBC
We gather to celebrate Easter Sunday and the resurrection of Christ. This is an uplifting service for all the family.
Previous Events
Licensing of Rev. Gareth Banton
Venue: St Luke's Church, Eccleston - entry by invitation due to Covid-19 restrictions
Sunday 5th September, 4:30pm
The Rev. Gareth Banton will be licensed to the Eccleston Team. Please note this service will take place at St Luke's Church, Eccleston. Due to the Pandemic, numbers attending will be restricted and access will be by invitation only. It is intended that the service will be streamed live online.
Harvest Sunday
Sunday 17th October 2021, 11:00am
Come, ye thankful people, come, plough the fields and scatter, and raise the song of harvest home. It may be a favourite celebration from your school days, but it is still going strong and is celebrated annually in Churches across the UK. Come and give thanks for the food we eat and those who provide it for us. We will also take a voluntary collection for charity.
Remembrance Sunday
Sunday 14th November 2021, Time: Please be seated by 10:55am

An annual opportunity to gather alongside people and Churches around the world to remember those who have given their lives in times of conflict to protect our nation and our way of life, both from Ravenhead and beyond. Includes two minutes silence at 11am. All are very welcome.
Remembering Service
Sunday 14th November 2021, Time: 4pm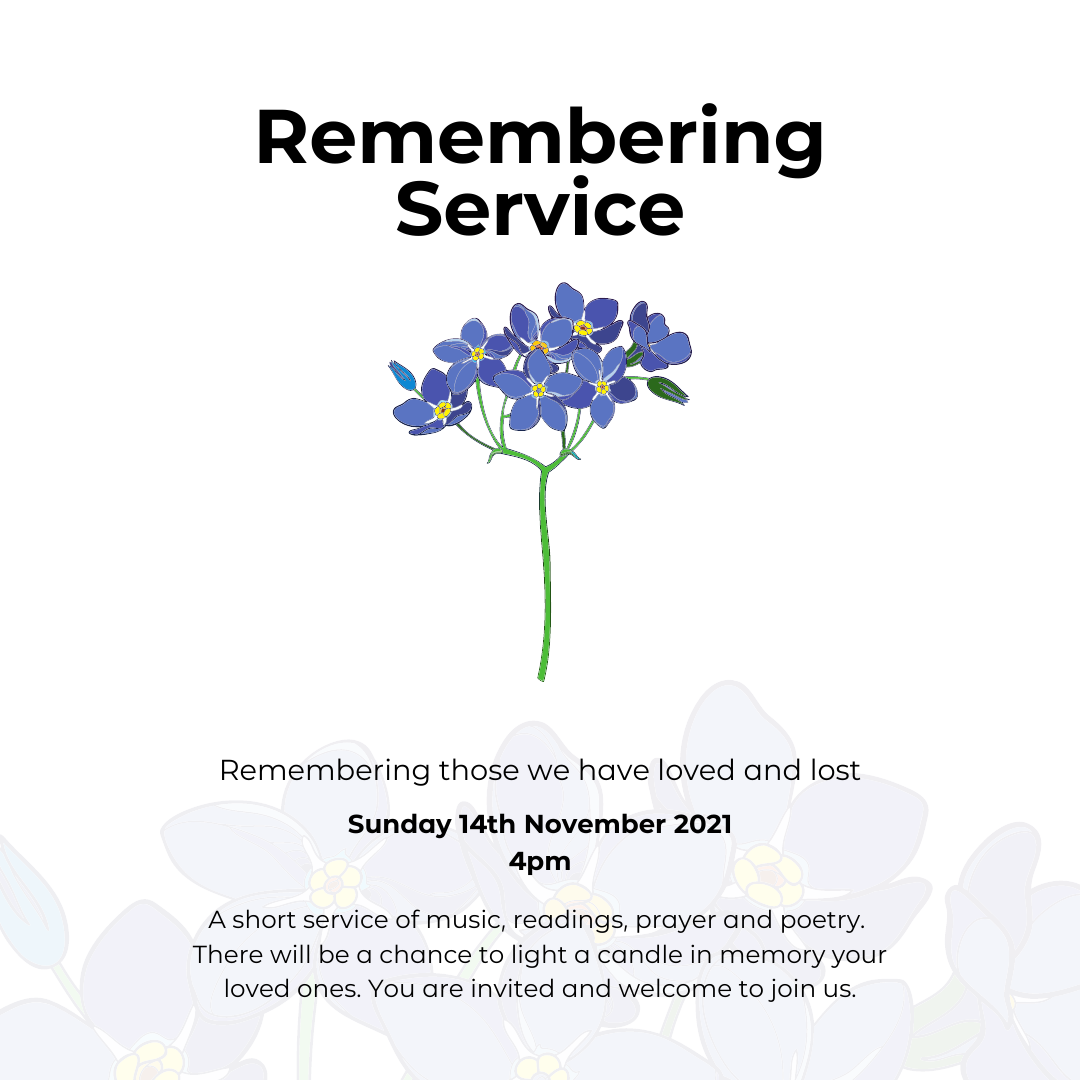 An opportunity to remember those we have loved and lost.