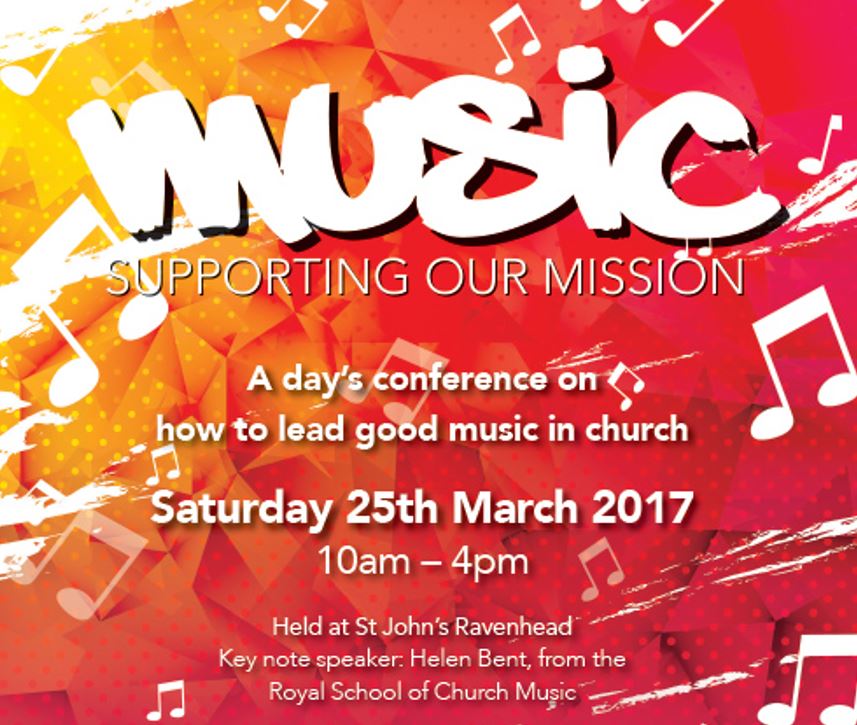 Music As Mission - Day Workshop
St John's Church, Crossley Road, Ravenhead, St Helens, WA10 3ND
10:00am - 4:00pm, Saturday 25 March 2017
Booking Required: £10/£12, inc. refreshments, course materials & light lunch
Organiser: The Diocese of Liverpool & The Royal School of Church Music

Music is such an important part of good worship but for many it's difficult to achieve. This conference gives practical workshops and advice covering all styles of Church music with some leading practitioners.
Whether you are an accomplished musician or you have no music provision and want to make better use of videos and CDs, this day is for you. Practitioners come from a range of backgrounds and musical traditions so whether you prefer contemporary or traditional music there will be something for everyone.
Delegates will be able to choose three workshops to go to on the day.
| | |
| --- | --- |
| Provisional Workshops include... | |
| Hymns for Today's Liturgy | Ian Sharp |
| The singing of Psalms and Canticles | George Swift |
| Worship Music/Music Group | Debs Davies |
| Music without Musicians | Jeremy Fagan |
| Contemporary Music | Helen Bent |
| Using BSL with Hymns & Songs (for complete beginners) | Hannah Lewis |
Keynote Speaker
We welcome Rev. Helen Bent - Head of Ministerial Training from the Royal School of Church Music who is our key note speaker today.
Helen Bent is a parish priest and Bishop's Adviser in Music and Worship for the Diocese of Sheffield. Helen is a gifted educator with degrees in both Music and Theology. She has a good understanding of worship across the Anglican traditions and styles as both a musician and a priest as well as many years experience in teaching and training. Helen is involved locally with the RSCM and at national level with Praxis, GROW, the Group for Renewal of Worship and Leading Your Church into Growth. She regularly writes creative liturgy resources and contributes to Church newspapers and magazines.
Note: This event is organised by the Diocese of Liverpool and The Diocese of Blackburn in partnership with the North-West Area branch of the Royal School of Church Music. All enquires should be directed to these organisations.

More events
Visitor Information